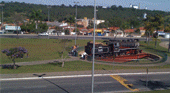 "[…] Apple tries to fix [the old GUI] by adding, and adding, and adding instead of rethinking. It is gone from insanely great to insanely gross. […] Instead of interface architects, Apple has been infested with decorators."
Jef Raskin (1943-2005)
Entrevista para a MacUser (2004).
Se esse é o caso quanto ao GUI (graphic user interface) do Mac, o que dizer do Windows?
Minha sensação é que estamos presos em um paradigma de interação que já alcançou seus limites, e estamos espalhando sinais de trânsito, post-its de lembretes, enfeites e guirlandas para diminuir a sensação labiríntica que os GUIs oferecem hoje…
Me parece que seria necessário mudar o ponto de vista do que "é interagir cotidianamente com um PC", e inventar uma nova abordagem de interação que incorporasse o "velho GUI" em um ambiente mais sofisticado.
Em geral, promovo a abordagem embasada em ancorar na realidade cotidiana, em si, meios de interação. Ou seja, creio que outra abordagem de interação não esteja em repensar o "espaço da tela, meios de acessar arquivos, organizar documentos e listas", mas "sair inteiramente" do paradigma estabelecido, depositando sobre o espaço, a arquitetura e o ambiente vivencial meios de interação homem-computador.
Hoje em dia, alguns chamam isso de "Computação Ubíqua". Creio que, no futuro, chamaremos isso de "Ambiente".